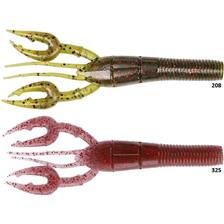 SOFT LURE GARY YAMAMOTO FAT BABY CRAW

Recommended retail price* :
€

14.20
Free shipping MyDelivengo
Models and characteristics
Recommended retail price*
Price inc VAT
LEGY3637208

Recommended retail price*
€

14.20
LEGY3637325

Recommended retail price*
€

14.20
Description

Pack of 10 soft lures Gary Yamamoto Lizard Baby 4" 1/2, 11 cm.

Lizards, salamanders and tritons regularly constitute the menu of our fresh water predators.

True institution with the USA, their artificial imitations remains still relatively confidential in France. Wrongly, because the results got with this kind of soft lure are quite simply astounding!

Sandres, poles and black low will be the priority targets of Baby Lizard Yamamoto as of opening.

Use the Baby Lizard on a Texan rig, a jig head at the beginning of season, then have a Carolina rig to go deeper as warming of water.

All the range of soft lures Yamamoto are salted in the mass.

See detail of colors of model in the zoom.
/en/ie
[16] - (Total:390 msec) 5/22/2019 12:53:35 AM